reynolds food packaging
Product Literature
MSDS Check
Material Safety Data Sheets
Your On-Line Source

Available Soon!
Home>Manufacturer Showcase>Reynolds Food Packaging Products
The Brand That Delivers!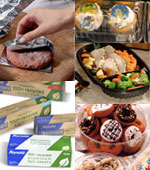 Reynolds Food Packaging is your total resource for products, services and solutions that improve performance. Reynolds offers innovative packaging products in virtually every size and shape, made from one of the widest selections of materials in the industry. Their products include foil; film; aluminum and plastic platters, containers, and lids; hinged plastic containers; foil wraps; foil and plastic bags; and paper baking cups and liners.
Reynolds extensive line also includes a full line of stock and custom products for the foodservice, supermarket, food processor and agricultural markets. And, all products are available in a wide range of sizes and material types for food preparation, serving, merchandising and storing. Reynolds Food Packaging - we are The Brand That Delivers !
Reynolds Food Packaging Brochures
Click on the images below to view or download the complete product literature information, including product features and benefits, and sizes available.
2010 Product Brochures


Aluminum Containers-Lids

Aluminum Containers-
Oblong

Aluminum Containers-Rounds

Aluminum Containers-Specialty & Compartments

Aluminum Containers-Steamtables

Aluminum Foil

Baking Cups & Liners

Bar-Lock: Cupcake & Muffins

Bar-Lock: OPS

Berry Baskets - PETE


Buy-Me-Now: Dessert

Cater-Time: Aluminum Trays

Cater-Time: Bowls & Lids

Cater-Time: Lock-Fresh
Bowls

Cater-Time: Lock-Fresh
Trays & Lids

Cut-Rite Wax Paper
Rolls & Bags

Deli Supreme

Del-Pak

Dual-Ovenable

Easy Lock Hingeware

Food Storage Bags

Foodservice Film

Grandstands

Herb Clamshells-PETE

Hingeware-Cupcake & Muffin
PETE & OPS


Hingeware-OPS

Hingeware-PETE

Hingeware-PETE
Single Serve

Hingeware-PETE
Bakery

Invertibles

Meal-Time Baskets

Microware Supreme
Entree Combos

Microware Supreme
Entree Combos-Single Serve

Microware Supreme
Roaster Combos

Octagons


Pieware Hinged

Pieware Two-Piece

Produce Mushroom Tills-OPS

Produce Packaging-OPS

Produce Trays-PETE


Produce Trays-RPET-OPS

Reflections-Cake

Reynolds Flip n' Stack

Reynolds Foil Wraps & Bags

Round Layer Cake
Bottom Liner

Sho-Bowls

Ultralite Bakeable, Ovenable & Microwaveable

UltraPac Cake


UltraView Cake



How to Order Your Reynolds Food Packaging Products
Contact Joshen
Whether you are a supermarket, c-store, retailer, school or university, manufacturer, distributor, or food service operator, Joshen has the high quality Reynolds Food Packaging products that you need. Contact us today so that we can match the right product at the right price based on your application needs.