Convenience Store Challenges
Joshen's Supply & Service Solutions
Contact Us
For More Information

Click here to contact us to receive more information on Supply Products, Joshen's flexible Distribution Programs, or Procurement Solutions.
Distribution Programs
Joshen's Delivery Solutions

What's the most cost-effective option for delivering your supply products to your locations? Joshen will customize a Distribution Program for you. Click here to learn about Joshen's flexible Distribution Programs.
Green Floor Stripping
Clarke BOOST Technology

Click here to learn more about the newest technology in the floor cleaning industry. Stripping without chemicals!
Decrease your labor and chemical costs while helping the environment!
Make sure to watch the demo video!
Home>Business Segment: Convenient Store
Convenience Store Challenges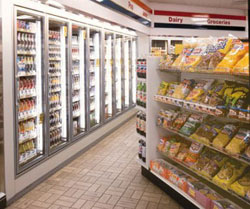 There is not another business segment today that sees as much foot traffic per square foot than a convenience store, and in the shortest amount of time.
Busy lifestyles are here to stay, and that translates to significant growth opportunities for the convenience store operator.
Whether your store operates with pre-packaged grab 'n go food and beverage items, or operates a full-service produce, meat, deli, or bakery department, you have challenges.
You have to accomplish all of this with cost controls to operate within your budget. The product line offering continues to grow with the times, and finding a strong source of supply for your supply products is imperative.
Joshen's Convenience Store Solutions
Joshen Paper & Packaging's business began with supermarkets, and there isn't a better-suited business partner for you that understands your convenience store business more than Joshen. Joshen takes a whole-system approach to cleaning and maintenance of convenience stores, as well as providing packaging and merchandising supplies, and all the supplies that you need to operate your convenience store. Joshen's supply product and service solutions generate a rapid improvement to your store's budget; as well as assisting you in protecting the safety and wellness of employees and customers.
Joshen currently services over 3,000 convenience stores across the United States; through direct store delivery, and warehouse replenishment distribution programs, as well as through convenience store distributors on a redistribution basis.
Product Solutions

Service Solutions

Click here to view our Product Category page, where you will find supply products directly involved with your business:

Disposables & Packaging
Janitorial & Maintenance
Eco-Friendly Products
Fruit & Gift Basket Supplies
Labels & Sign Cards
Display & Fixtures
Office Supplies & Cash Management
Specialty Print Forms
Shipping & Receiving Supplies

All the supplies that you need can be purchased through Joshen as your "One-Stop Supplier" at low prices, and are delivered to you when you need them; on-time every time. So you can focus on growing and managing your core-business!

Best Practices for maintaining a clean and safe environment for your customers and employees
Training on proper cleaning and sanitizing procedures; assisting your compliance with Health Department Regulations
Training required by OSHA for "Right to Know" compliance for cleaning products
Floor Maintenance training for in-house employees
Floor chemical support and selection to match your maintenance schedule; maximizing the appearance of your floors
Installation of dispenser conversions for new use-controlled dispensing for chemicals, skin care, towel, and tissue needs
Front-end bagging training video to maximize quantity of products placed in bags
Sourcing packaging supplies for all your new or alternative takeout, and beverage items
Sourcing front-end and back-end supplies to operate your business at the lowest cost
Order Guides by department to control supply product selection; assisting you in achieving your budget goals & objectives
Application Manuals for supply products; prompting proper use of supplies and merchandising your items correctly
Advantage Joshen
In addition to our extensive product line, Joshen provides a variety of inclusive programs, services, and resources that include:
New Technologies and Products
Employee Education and Training
On-line Order Entry & Customized Reporting
Experienced Account Management & Customer Service Team
Implementing "Green" Practices That are Cost Effective
Offering an Eco-friendly Product Line that grows daily
Support Services and Technical Expertise
Vendor and SKU Rationalization
Supply Product Management
Labor Savings Programs
Flexible Distribution Programs
Transparency of Our Business
Joshen would welcome the opportunity to evaluate the products and programs that you have in place today, and offer you solutions with our supply products, distribution programs, order processes, and procurement methods to help you achieve your goals and objectives.