School-University Challenges
Joshen's Supply & Service Solutions
Contact Us
For More Information

Click here to contact us to receive more information on Supply Products, Joshen's flexible Distribution Programs, or Procurement Solutions.
Distribution Programs
Joshen's Delivery Solutions

What's the most cost-effective option for delivering your supply products to your locations? Joshen will customize a Distribution Program for you. Click here to learn about Joshen's flexible Distribution Programs.
School Systems
Give Your School a BOOST
™

with Clarke®

Click here to learn more about the newest technology in the floor cleaning industry. Stripping without chemicals!
Decrease your labor and chemical costs while helping the environment!
Make sure to watch the demo video!
Check out the great savings your school can experience with the latest and most innovative green product in the floor cleaning industry. Click here
2-Way Business Radio
Save Time. Save Money.

click here to view how to improve productivity with Motorola in Schools & Universities
learn more about Motorola Business Two-Way Radios
Home>Business Segment: Schools & Universities
School & University Challenges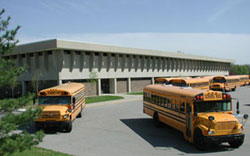 School and university administrators are caught in a squeeze when it comes to the appearance and safety of their buildings. The demand for clean, healthy buildings has never been greater. The public is growing more sensitive about the threat of germs, viruses, toxic mold and E. coli, at school, with the public's perception of how well a school system is run is tied to the appearance of its schools. Unclean schools create a negative impression on parents, teachers, students, staff and visitors. In addition, buildings are being used more frequently for extracurricular purposes such as senior gatherings and club meetings.
In spite of this, building maintenance and cleaning budgets have been reduced significantly in the recent years. Schools are facing significantly greater cleaning challenges with fewer resources. Many times this leads to purchasing from multiple suppliers for products; resulting in a mix of incompatible supplies and without proper training of school custodians.
There are also the challenges of purchasing disposable supplies for use in the cafeterias and social halls that are functional, durable, and protected until used; all within a reduced budget. You have to accomplish all of this with cost controls to operate within your budget. Finding a strong source of supply for your supply products is imperative.
Joshen's School & University Solutions
Joshen takes a whole-system approach to cleaning and maintenance of schools and universities. Assisting you in maintaining a healthy environment in your school is one of our areas of expertise. Joshen's supply product and service solutions generate a rapid improvement to your school's budget; as well as assisting you in protecting the safety and wellness of employees and customers.
Joshen currently services an abundance of schools (including churches), school systems, and universities across the United States. How competitive are our prices? Joshen has been the awarded supplier on bids shipping from Cleveland, Ohio all the way to California!
Product Solutions

Service Solutions

Click here to view our Product Category page, where you will find supply products directly involved with your business:

Disposables & Packaging
Janitorial & Maintenance
Eco-Friendly Products
Labels & Sign Cards
Display & Fixtures
Office Supplies & Cash Management
Specialty Print Forms
Shipping & Receiving Supplies

All the supplies that you need can be purchased through Joshen as your "One-Stop Supplier" at low prices, and are delivered to you when you need them; on-time every time. So you can focus on managing your School or University!

Best Practices for maintaining a clean and safe environment for your students, visitors, and staff
Training on proper cleaning and sanitizing procedures for cafeterias; assisting your compliance with Health Department Regulations
Training required by OSHA for "Right to Know" compliance for cleaning products
Floor Maintenance training for in-house custodians
Floor chemical support and selection to match your maintenance schedule; maximizing the appearance of your floors and insuring slip-resistant properties
Sourcing packaging supplies for cafeteria and social functions
Order Guides to control supply product selection; assisting you in achieving your budget goals & objectives
Installation of dispenser conversions for new use-controlled dispensing for chemicals, skin care, towel, and tissue needs
Advantage Joshen
In addition to our extensive product line, Joshen provides a variety of inclusive programs, services, and resources that include:
New Technologies and Products
Employee Education and Training
On-line Order Entry & Customized Reporting
Experienced Account Management & Customer Service Team
Implementing "Green" Practices That are Cost Effective
Offering an Eco-friendly Product Line that grows daily
Support Services and Technical Expertise
Vendor and SKU Rationalization
Supply Product Management
Labor Savings Programs
Flexible Distribution Programs
Transparency of Our Business
Joshen would welcome the opportunity to evaluate the products and programs that you have in place today, and offer you solutions with our supply products, distribution programs, order processes, and procurement methods to help you achieve your goals and objectives.