retail challenges
Joshen's Supply & Service Solutions
Home>Business Segment: Retail
Retail

Challenges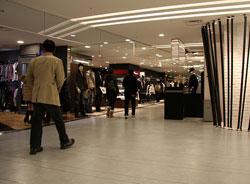 There are a number of challenges facing the retail sector today, including pressured consumers, globalization, and rising operating costs. Getting through the current economic state requires conservative expenditures.
How can retailers compete in the United States today? By insuring price and product are optimized, controlling and decreasing indirect-spend items, and supply chain responsiveness. Retailers are being forced to become more leaner and more efficient in their processes, and procurement of operating supplies; and they must do so continuously to remain competitive.
Building maintenance and cleaning budgets have been reduced significantly in the recent years. Retailers are facing significantly greater cleaning challenges with fewer resources. Many times this leads to purchasing from multiple suppliers for products; resulting in a mix of incompatible supplies and without proper training of janitorial staff. If this function is outsourced without proper products being used or controlling the spend on supply products, the retail business segment is at a greater risk.
Add all the fixtures, pricing architecture, loss prevention, and specialty print requirements that are typically procured from multiple sources of supply, and the retailer has a time-consuming procurement and management task in order to operate.
There are also the challenges of purchasing disposable supplies for use in the breakrooms and cafeterias that are functional, durable, and protected until used; all within a reduced budget. You have to accomplish all of this with cost controls to operate within your budget. Finding a strong source of supply for your supply products is imperative.
Joshen's Retail Solutions
Joshen takes a whole-system approach to cleaning and maintenance of retail operations, as well as reducing costs for janitorial, loss prevention, merchandising, and packaging supply products, usage, and labor costs. Joshen's supply product and service solutions generate a rapid improvement to your operations budget; as well as assisting you in protecting the safety and wellness of teammates and consumers. We have encountered many different retail operation challenges related to supply product procurement, as well as inventory management & distribution customization. Joshen has been able to implement complete supply chain solutions for our retail customers, including vendor consolidation and purchasing economies of scale, and freight reductions by eliminating direct to store shipments as a result of using Joshen as the sole source of supply.
Joshen currently services an abundance of retail operations across the United States; through direct store delivery, warehouse flow-through, and cross-dock; as well as through retail distributors on a redistribution basis.
Product Solutions

Service Solutions

Click here to view our Product Category page, where you will find supply products directly involved with your business:

Custom Print Solutions
Disposables & Packaging
Eco-Friendly Products
Display & Fixtures
Fruit & Gift Basket
Hanging & Tagging
Janitorial & Maintenance
Labels & Sign Cards
Office Supplies & Cash Management
Pharmacy Supplies
Specialty Print Forms
Shipping & Receiving Supplies

All the supplies that you need can be purchased through Joshen as your "One-Stop Supplier" at low prices, and are delivered to you when you need them; on-time every time. So you can focus on growing and managing your core-business.

Best Practices for maintaining a clean and safe environment for your consumers and teammates
Training on proper cleaning and sanitizing procedures for breakrooms; assisting your compliance with Health Department Regulations
Training required by OSHA for "Right to Know" compliance for cleaning products
Floor Maintenance training for in-house custodians
Floor chemical support and selection to match your maintenance schedule; maximizing the appearance and safety of all your floor surfaces
Installation of dispenser conversions for new use-controlled dispensing for chemicals, skin care, towel, and tissue needs
Sourcing packaging supplies for all your cafeteria, breakrooms, and conference room needs
Sourcing fixture & display supplies
Sourcing hanging & tagging supplies
Sourcing loss prevention supplies
Order Guides to control supply product selection; assisting you in achieving your budget goals & objectives
Application Manuals and Charts for chemical products; prompting proper use of products.
Advantage Joshen
In addition to our extensive product line, Joshen provides a variety of inclusive programs, services, and resources that include:
New Technologies and Products
Employee Education and Training
On-line Order Entry & Customized Reporting
Experienced Account Management & Customer Service Team
Implementing "Green" Practices That are Cost Effective
Offering an Eco-friendly Product Line that grows daily
Support Services and Technical Expertise
Vendor and SKU Rationalization
Supply Product Management
Labor Savings Programs
Flexible Distribution Programs
Transparency of Our Business
Joshen would welcome the opportunity to evaluate the products and programs that you have in place today, and offer you solutions with our supply products, distribution programs, order processes, and procurement methods to help you achieve your goals and objectives.