dart container corporation
Products & Recycling Programs
Home>Dart
Dart Container Corporation
DART ANNOUNCES 50th ANNIVERSARY PLANS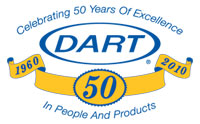 "We are pleased to announce that 2010 marks Dart Container Corporation's 50th Anniversary!
As we look back over the past 50 years and see how dramatically the foodservice industry has changed in response to customer demands, we're grateful that we, too, have been able to respond to those demands by offering an ever-expanding line of quality products while maintaining the highest level of customer service.
Reaching a milestone like this is possible only if a company has had the support of many different people and organizations throughout its history. We are indeed fortunate to have received a great deal of support from a number of sources - among whom four in particular deserve special recognition - and we plan to show them our appreciation and gratitude throughout 2010. "
How It Began

The Dart story begins with a small machine shop in Mason, Michigan known as Dart Manufacturing Company. Established in 1937, this modest business prospered through the manufacture of such products as plastic key cases, steel tape measures, and identification tags for the armed services. Subsequent experimentation with expandable polystyrene in the late 1950s led to a line of high quality insulated foam cups, and Dart Container Corporation was born.
Foam vs Paper
Consumers immediately recognized the benefits of foam cups over the then-popular paper hot cups, and sales took off. These benefits include superior insulation, strength, and durability—all provided at a lower cost due to Dart's unrivaled proprietary technical innovations. Dart's early success in the foam cup market was further fueled by its commitment, still evident today, to providing their customers with excellent service and products of consistently high quality.
Growing Years
Succeeding years saw many new lines added to the Dart product mix. Today, Dart manufactures a broad range of quality single-use products for the foodservice, retail/consumer, and food packaging industries, and is the world's largest manufacturer of foam cups. In order to ensure that Dart provides customers with consistent product quality and a dependable source of supply, Dart manufactures most of its own production equipment and raw materials. They then turn those raw materials into finished products and use Dart trucks to deliver them to points "across the globe."
Today
Dart Container Corporation sets the industry standard of excellence by providing high quality recyclable, affordable and safe foodservice products and packaging, exceptionally reliable service and responsible environmental practices. Today, Dart is a world-wide leader for the manufacturing of single-service foam and plastic containers, cups, and tableware supply products.
Dart's pledge to customer satisfaction does not end with the sale. Dart has forged many long standing business partnerships with the distributor community through ongoing service and support levels that are second to none in the industry. Dart has also been at the forefront of efforts to recycle polystyrene foam foodservice products, and to inform government, customers, and the public of the facts about polystyrene foam. Top to bottom, Dart stacks up as the proven leader in providing quality, service, and convenience to foodservice markets worldwide.
Contact Joshen today for all of your Dart product needs.
Environmental Practices
Recycling Opportunities

Dart is making a concerted effort to increase foam recycling opportunities throughout the country and strives to produce high‐quality, cost‐effective products in a manner sensitive to environmental concerns. Dart is headquartered in Mason, Michigan. For more information, visit www.dart.biz or call (800) 248‐5960.
CARE (Cups Are REcyclable)

To make recycling polystyrene foam food service products easier for our customers, Dart offers the CARE (Cups Are REcyclable) program. The CARE Program helps large operators using foam food service products separate the foam from other products, consolidate the collected material, and arrange to have it recycled. Recycled foam food service products can be reprocessed into building insulation, plastic lumber, and many other products.
Dart Container Corporation will assist qualified operators in their foam recycling efforts through the Dart CARE Program.
Recycla-Pak

The Dart Recycla-Pak program is an easy way for any business to recycle their foam cups. Simply purchase a specially designed Recycla-Pak corrugated collection bin and you can start recycling foam cups. The Recycla-Pak collection bin doubles as the shipping carton used to return the collected cups for recycling at a Dart or industry recycling facility. The bin will be shipped to you flat and, after a simple assembly, you are ready to begin collecting used foam cups for recycling. During use, the divided interior of the bin keeps the collected cups neatly stacked. This serves to maximize the number of cups that will fit into the bin as well as discourage users from depositing anything but their used foam cups.
Drop-off Locations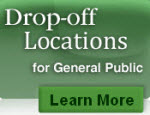 Dart currently operates several polystyrene foam drop-off locations at their production plants for anyone who wishes to recycle foam products. In addition Dart has recycling centers at their production facilities in Michigan, Pennsylvania, Florida, and Ontario, Canada, capable of reprocessing 12 million pounds of foam products annually.
In Dart's home state of Michigan, they have built a comprehensive infrastructure for recycling foam products, with more than 40 polystyrene drop-off locations in over 30 counties. Renew America, a national coalition of environmental groups, has named Dart's Michigan County Recycling Program to its Index of Success annually since 1991.