fixture & display products
Quality Fixture & Display Products.Low Prices.
Contact Us
For More Information

Click here to contact us to receive more information on Supply Products, Joshen's flexible Distribution Programs, or Procurement Solutions.
Distribution Programs
Joshen's Delivery Solutions

What's the most cost-effective option for delivering your supply products to your locations? Joshen will customize a Distribution Program for you. Click here to learn about Joshen's flexible Distribution Programs.
Home>Product Categories>Fixture & Display Products
Fixture & Display Supply Solutions
Supplies To Communicate Your Message and Merchandise & Secure Your Items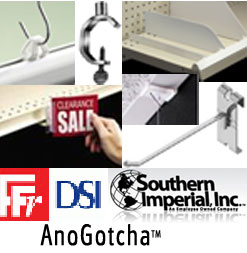 Whether you are a supermarket, c-store, retail operation, pharmacy, or foodservice operation, there are hundreds and hundreds of fixture & display options available to you. Joshen understands how confusing the options are between all the clips, pegs, and sign holders that are available on the market today.
Joshen has all the fixture & display supply products that you need from the leading manufacturers that you demand. Some of these small clips and pegs are procured by Joshen in master cases and shipped to you in inner packs so that you don't have excess inventory that often times is not available for resets as they get lost in your backroom storage area.
Examples of fixture & display supply products are:
Bulletin signholders
Ceiling clips & sign holders
Channels
Counter Display Mirror
Data strip signholders
Foam Blocks
Hang tags
Fastrack hooks in several sizes
Plasic backs for hooks
Inventory control clips
Label holders & hook backs
Literature pockets
Loss prevention security products-lanyards, cables, etc.
Replacement Stylus
Replacement Scanning Glass
Signature Screen Protectors
Shelf peg & dart clips
Shelf dividers & channels
Sign & Card Holders
Perforated strips with holders
Vinyl tag pockets
Wooden Display Tabletop Rack
and many more...
Joshen is The Total Package for your Fixture & Display Needs! Contact us today so that we may assist you in identifying the supply products that you need to merchandise your items and protect & secure your retail items.
Are your store personnel having difficulty ordering the correct supply products? With all the variety of fixture & display supply products, it can be quite confusing. Look to Joshen's b2b order processing on-line solutions, where your stores can order supply products complete with images so they know the exact supply products they are ordering; increasing efficiency in your stores.
One-Stop for All Your Supply Products
The Total Package we deliver!
Joshen truly eliminates the need for costly multiple suppliers. With an inventory of more than 20,000 supply products, all of your needs to operate your business, from the back to the front, are taken care of at the lowest cost. With our expansive truck fleet, we can deliver the products you need at your location in the shortest time possible; or take advantage of Joshen's backhaul program to further drive down your supply costs! Along with our timely delivery, our procurement systems ensure you won't be out of supplies and be faced with operational issues or missed opportunities. Our S.M.A.R.T. System effectively manages your supply products, and flexible reporting technology delivers information to your desktop in a flash!
So whether your a supermarket, c-store, food establishment, food processor, manufacturing facility, retail store, public or private institution, municipality, distributor, or contractor, Joshen has the supply products that you need, at the lowest cost, to effectively merchandise and efficiently operate and manage your business. If we don't have it, we'll get it!