labels & sign cards
Look to Joshen For All Your Label & Pricing Needs!
Contact Us
For More Information

Click here to contact us to receive more information on Supply Products, Joshen's flexible Distribution Programs, or Procurement Solutions.
Distribution Programs
Joshen's Delivery Solutions

What's the most cost-effective option for delivering your supply products to your locations? Joshen will customize a Distribution Program for you. Click here to learn about Joshen's flexible Distribution Programs.
Custom Printing
Want your logo/store name on your labels?
Joshen can guide you from design, procurement and delivery to your locations. Click here for more information.
Home>Product Categories>Labels & Sign Cards
Labels & Sign Cards
Over 2,000 sku's
Joshen offers a full-line of offers labels, guns, sign cards, and tagging equipment in a wide variety of different models and styles. Joshen can provide pricing, merchandising, and date coding label solutions for supermarket, convenient store, foodservice, institutional, industrial and retail applications. We offer a large selection of labels to choose from in a variety of colors for any application.
Sales increases can be achieved by using "eye-catching" Point-of-Purchase labels and sign cards. Need added sales attention, ingredient, requirement, weight or safety information? Rely on Joshen's business segment expertise to provide the correct label that you need. Plus, Joshen will procure and warehouse these for you; delivering the label & sign card products to you when you need it, so you don't have to inventory a large quantity of supplies.
Joshen is The Total Package in Labeling Solutions!
Price Marking Guns & Labels
Joshen has all the price marking guns and label supplies that you need to manage your pricing requirements at your location. Our pricing guns are perfect for price marking, promotional labeling, and date coding. These label guns let you mark thousands of items quickly and reliably. Ask your account manager about Joshen's Repair Gun/Exchange Program, which allows your operation to continue to run smoothly.
Monarch Label Guns & Monarch Pricing Labels
Meto Label Guns & Meto Labels
Garvey Label Guns & Garvey Labels
Sato Label Guns & Sato Labels
Primark Label Guns & Primark Labels
Foodservice Labels
Joshen has a wide variety of customer friendly foodservice labels; from eye-catching merchandising labels, pricing, to tamper resistant labels.
Flavor
Merchandising
Price Reduction and Write On
Coupon
Tamper Resistant
Check Off
Date Coding
Thermal Labels

Whether you are a supermarket, c-store, manufacturer, or retailer, Joshen can assist you with thermal labels you require to effectively manage or merchandise your items. From scale labels that have become more than just a weigh-scale label; carrying ingredient and safety warnings, store specials, recipes, etc., to retail shelf marking products & bib and pull tags, to industrial or warehouse barcode products, Joshen procures from the leading manufacturers on the market today. With a wide range of paper and tagging base materials available, along with adhesive and liner options, Joshen can procure for you all of your labeling supply products that will withstand any harsh environment.
For more information regarding thermal labels, to request a quote, or place an order please contact us.
Sign Cards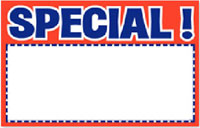 Sign cards will greatly enhance your sales by increasing impulse buys and drawing your customer's attention to the products you want to sell. Joshen inventories stock price cards, pen and ink kits, and has the ability to procure and deliver your custom sign cards and posters for your retail operation from some of the most reputable printers in the industry.
Laser Bright
Shelf Labels & Shelf Talkers
Seasonal
Value
Pen & Ink Kits
One-Stop for All Your Supply Products
The Total Package we deliver!
Joshen truly eliminates the need for costly multiple suppliers. With an inventory of more than 20,000 supply products, all of your needs to operate your business, from the back to the front, are taken care of at the lowest cost. With our expansive truck fleet, we can deliver the products you need at your location in the shortest time possible; or take advantage of Joshen's backhaul program to further drive down your supply costs! Along with our timely delivery, our procurement systems ensure you won't be out of supplies and be faced with operational issues or missed opportunities. Our S.M.A.R.T. System effectively manages your supply products, and flexible reporting technology delivers information to your desktop in a flash!
So whether your a supermarket, c-store, food establishment, food processor, manufacturing facility, retail store, public or private institution, municipality, distributor, or contractor, Joshen has the supply products that you need, at the lowest cost, to effectively merchandise and efficiently operate and manage your business. If we don't have it, we'll get it!