pharmacy supply products
Joshen Has The Leading Brands at Low Prices
Contact Us
For More Information

Click here to contact us to receive more information on Supply Products, Joshen's flexible Distribution Programs, or Procurement Solutions.
Distribution Programs
Joshen's Delivery Solutions

What's the most cost-effective option for delivering your supply products to your locations? Joshen will customize a Distribution Program for you. Click here to learn about Joshen's flexible Distribution Programs.
Home>Product Categories>Pharmacy Supplies
Pharmacy Supply Solutions
Avoid Direct-to-store Shipping Charges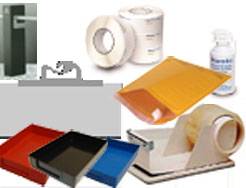 Whether you are a stand-alone pharmacy location, a chain of pharmacies, or have pharmacies located in your supermarkets or retail operations, Joshen inventories pharmacy supply products from the leading manufacturers that you demand.
If you are purchasing your pharmacy supply products on a direct-basis currently, but want to avoid your direct-to-store shipping charges or small order fees, then look to Joshen's flexible distribution programs. Joshen will warehouse your pharmacy supply products, including your specialty print forms, and ship them to your store or to your distribution center along with your regular Joshen supply orders.
Some examples of our Joshen's pharmacy supply products include:
Monaco Bags & ID Tag Sets
Bubble Mailers
Rx trays
Rx tape & dispensers
Signature screen protectors
Signature replacement pens
Parata equipment supplies
Want to increase efficiency for your pharmacists or technicians? Look to Joshen's b2b order processing on-line solutions, where your pharmacies can order supply products complete with images so they know the exact supply products they are ordering; increasing efficiency in your stores.
If your pharmacies need to be invoiced separately from the remainder of your store, that's not an issue at Joshen. With our supply chain solutions, Joshen will manage, invoice, and report your pharmacies' supply spend as a separate entity.
One-Stop for All Your Supply Products
The Total Package we deliver!
Joshen truly eliminates the need for costly multiple suppliers. With an inventory of more than 20,000 supply products, all of your needs to operate your business, from the back to the front, are taken care of at the lowest cost. With our expansive truck fleet, we can deliver the products you need at your location in the shortest time possible; or take advantage of Joshen's backhaul program to further drive down your supply costs! Along with our timely delivery, our procurement systems ensure you won't be out of supplies and be faced with operational issues or missed opportunities. Our S.M.A.R.T. System effectively manages your supply products, and flexible reporting technology delivers information to your desktop in a flash!
So whether your a supermarket, c-store, food establishment, food processor, manufacturing facility, retail store, public or private institution, municipality, distributor, or contractor, Joshen has the supply products that you need, at the lowest cost, to effectively merchandise and efficiently operate and manage your business. If we don't have it, we'll get it!