restroom supply program
Controlled Dispensing.Enhanced Look.Low Prices.
Contact Us
For More Information

Click here to contact us to receive more information on Supply Products, Joshen's flexible Distribution Programs, or Procurement Solutions.
Distribution Programs
Joshen's Delivery Solutions

What's the most cost-effective option for delivering your supply products to your locations? Joshen will customize a Distribution Program for you. Click here to learn about Joshen's flexible Distribution Programs.
Home>Product Categories>Janitorial & Maintenance>Restroom Program
Restroom Program
Restroom sanitation is vitally important to any cleaning program. Cleanliness and floor condition can have a dramatic impact on the loyalty of customers, students, employees, and visitors to your facility. Give them the right impression of your facility with Joshen's complete restroom program, including fixtures, refills, and cleaning and disinfecting products that are targeted just for the restrooms in your facility.
For any type of establishment, our dispensing systems ensure fresh solutions and clean rinse water, preventing cross contamination from restrooms to food prep areas, breakrooms, and cafeterias.
"Shoppers will limit purchases if they perceive the store is not clean. Restrooms are of particular concern to most shoppers".– NACS/Coca-Cola Research Council, "Fast Forward, Emerging Opportunities in Convenience Retail."
Dispensing Options
Joshen offers a full-line of dispensing fixtures from the leading manufacturers that you demand: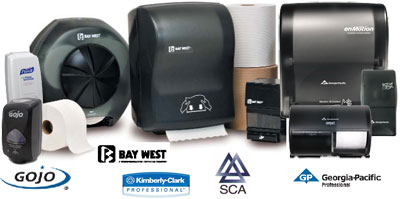 Towel
Toilet Tissue
Hand Soap, Sanitizer, and Lotion
Toilet Seat Covers
Air Fresheners
Feminine Hygiene Receptacles & Dispensers
Features & Benefits
Safer food handling and improves hygiene: Touchless dispensing helps minimize risk of cross-contamination
Complies with HACCP guidelines: Reduces the potential for cross-contamination and helping reduce the risk of food-borne illnesses
Lowers supply cost: One-at-a-time towel dispensing reduces waste
Increases operational efficiency: Many of the towel, hand, and air dispensers offer adjustable settings for sheet length, time delay, sensor range and dispensing mode controls usage
Easy to clean
Enhances image: Dispenser design and coordinated towel, soap, air freshener and tissue dispensers convey an upscale look and enhances a facility's image
Complies with ADA regulations: When installed properly, the dispensers meet Americans with Disabilities Act guidelines
Refills
Joshen offers a variety of fragrances and formulas for hand & body care, and air fresheners. Many of our towel, tissue, and seat cover refills meet EPA guidelines for recycled content, and our feminine hygiene refills offer protected packaging. Contact Joshen today so that we may discuss your facility's needs and guide you in the choosing the right refills and dispensing options to enhance your image and control your supply costs.
Cleaning Supplies & Tools
Foul-smelling restrooms consistently generate more complaints than any other part of a facility, which is no surprise considering they're a refuge for soils and odor-causing bacteria. The only way to eliminate the odors is to effectively remove the odor-causing bacteria and their food sources using one of several solutions available today from Joshen: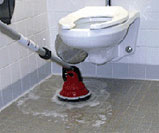 Cleaners, disinfectants, and de-liming agents
Urinal blocks & screens, bowl hangers
Dual mop buckets
Microfiber systems
Scrubbing tools for hard to reach areas
Protective gloves
Urinal Mats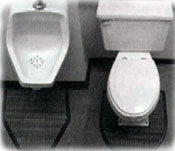 For certain business segments, urinal mats are necessary to eliminate wet floors around urinals and commodes; improving facility safety and appearance.
Provides 24/7 protection
Controls odors helping restrooms smell clean & fresh
Prevents cross-contamination from standing puddles
Low cost & disposable
Easy to use & dispose of
Absorbs liquid & immediately converts it to a gel
Reduces labor costs