Crown Poly
Pull-N-Pak Is Proven To Grow Sales & Profits !
MSDS Check
Material Safety Data Sheets
Your On-Line Source

Available Soon!
Manufacturer Showcase>Crown Poly>Pull-N-Pak

Increase your store's profitability by enhancing your customer's experience and encouraging greater sales with the Crown Poly Pull-N-Pak® System.
Don't Miss the New Carniceria Bag Available !
Meat Stays Fresh
Seals in Flavor
Won't leak or tear
Meat handling instructions printed in both English & Spanish
Bag dispensers available at no cost !
15x20 0.6mil (15.2 Micron)
One Bag at a Time Dispensing

The Pull-N-Pak system dispenses only one bag at a time,
eliminating customer frustration and reducing bag waste.

Pre-Opened Bags

The Pull-N-Pak system solves shoppers #1 complaint by providing pre-opened bags while on the dispenser.

Wide-Opening, Static-Free Bags

Wide-Opening and static free, Pull-N-Pak bags stay open and are easy for customers to load.

Large Capacity Bags

With 15" x 20" capacity, Pull-N-Pak bags hold 50% more than standard roll bags, encouraging shoppers to purchase greater volumes. This larger size is proven to generate increased sales.

Star-Sealed Bottom

Pull-N-Pak's patented star-sealed bottom is stronger than any other seal on the market. It is leak proof and creates a unique, concave shape that leads to increased sales.

Attractive Dispensers

Futuristically designed dispensers are compact, complement store interiors, and are manufactured from stainless steel or high-impact polycarbonate.

Environmentally Friendly

Pull-N-Pak bags used 50% less raw materials and less energy to produce and ship than standard bags. Due to the pre-opened bags and one bag at a time dispensing, Pull-N-Pak decreases bag waste by up to 20%. All Pull-N-Pak bags are recyclable.

---
For Every Department of the Supermarket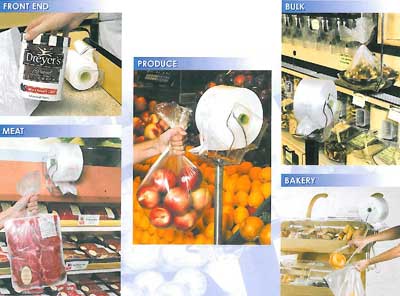 ---
Joshen Has All Your Crown Poly Product Needs
Contact Joshen today to discuss your bagging needs. Let us show you all the features and benefits of the Pull-N-Pak® System. With complete bag and racking systems, you can begin increasing your store's profitability!