Chemicals & dispensing equipment
Concentrated Chemicals. Controlled Use. Save Money
Contact Us
For More Information

Click here to contact us to receive more information on Supply Products, Joshen's flexible Distribution Programs, or Procurement Solutions.
Distribution Programs
Joshen's Delivery Solutions

What's the most cost-effective option for delivering your supply products to your locations? Joshen will customize a Distribution Program for you. Click here to learn about Joshen's flexible Distribution Programs.
Home>Product Categories>Janitorial & Maintenance>Dispensing Equipment
Chemical Dispensing Equipment
Control Use & Save On Supply Costs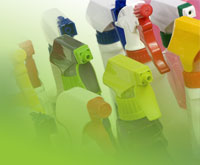 If your backroom areas are over crowded with retail "off the shelf" cleaners, leave your profits on the shelf!
You are spending more on your cleaning product costs,
You may not be using products that increase the efficiencies of your custodial staff,
You may not have the required OSHA MSDS for "Right to Know" compliance
Joshen's chemical dispensing products are used to safely and accurately blend chemicals and water for a variety of applications, including housekeeping, food service, food processing, dishwash, commercial cleaning, laundry, and car wash operations.
So if your backroom areas look like this or you use concentrates but not proportioners, then contact Joshen today and we'll perform a cost-in-use analysis so that you can see the dramatic savings you could realize by implementing a concentrated cleaning program with dispensing options available from Joshen.
Types of Dispensing Equipment Offered by Joshen
Proportioners: hotels/motels, restaurants, hospitals, schools, dormitories, long term care facilities, carpet cleaning, supermarkets, food processing, carwash
Foam/spray clean systems: food processing, supermarkets, food service sanitation, industrial cleaning, concrete/asphalt releases, car and truck washing
Laundry dispensers: hotel/motel laundries, hospitals, long term care facilities, industrial laundries, dry cleaners
Electronic chemical controllers: restaurant dish machines, cage washers, parts washers, bottle washers, egg washers
Water powered proportioning pumps: carwash, food processing, bottling plants, industrial, pest control, printing, turf maintenance, and water treatment
Watch this video for convenient and accurate foaming, spraying, and rinsing from Hydro Systems Company.
Contact Joshen today for all your dispensing needs.
Concentrated Products Offered by Joshen
Cut your supply costs by using concentrated cleaning, disinfecting & sanitizing products available from Joshen.
Chemicals-Floors

Carpet Cleaners & Spotters
Neutral Cleaners
Floor Degreasers
Floor Finishes
Floor Sealers
Floor Finish Strippers
Wood / Gymnasium Floor Products

Chemicals-Foodservice

Degreasers
Dish Detergents
Delimers
Drain Openers
Food Grade Lubricants
Fryer Cleaners
General Cleaning
Oven & Grill
Sanitizers
Specialized

Chemicals-Housekeeping

All Purpose
Disinfectants
Furniture/Dusting
Drain Openers
Glass
Metal Polishes
Restroom
Upholstery
Ready-To-Use Products Offered by Joshen
Joshen also offers many industrial strength cleaning, disinfecting, and sanitizing products for those cases where the application or environment is more conducive to ready-to-use formulations.
Green Cleaning Products Offered by Joshen
To assist in your sustainability initiatives, Joshen offers a complete line of green cleaning products. Click here to learn more.