Shipping & Receiving Supplies
A Growing Category of Products Available
Contact Us
For More Information

Click here to contact us to receive more information on Supply Products, Joshen's flexible Distribution Programs, or Procurement Solutions.
Distribution Programs
Joshen's Delivery Solutions

What's the most cost-effective option for delivering your supply products to your locations? Joshen will customize a Distribution Program for you. Click here to learn about Joshen's flexible Distribution Programs.
Home>Product Categories>Shipping & Receiving Supplies
Shipping & Receiving Supply Solutions
Growing Category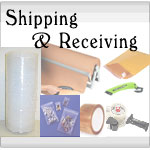 What had originally started with a few supply products that were offered as a sevice for our customers, shipping and receiving is a growing category of supplies for Joshen.
With today's globalized environment, shipping and receiving has never been more crucial. Americans buying goods from, and selling goods to, the rest of the world, high-quality shipping and receiving employees are among the most important links in the supply chain. Safe tools and best packing supplies are a necessity.
So whether you need a few supplies at your receiving desk, or protective film or paper wrap, just add to your order already shipping to your location. Just another example of how Joshen is reacting to customer requests and expanding its product lines to decrease your supply costs, and be your One-Stop supplier. Joshen is The Total Package for your shipping and receiving supply needs.
Products Available
Stock and Specialty Print Forms
Dollies & Tilt Trucks
Bubble Mailers
Poly Bags
Zip-Loc Bags
Stretch Film & Pallet Covers
Shrink Film & Adjustable Dispensers

Bailing Wire
Protective Wraps & Dispensers
Packing List Envelopes
Carton Sealing Tape & Dispenser
Masking Tape
Safety Cutters & Blades
One-Stop for All Your Supply Products
The Total Package we deliver!
Joshen truly eliminates the need for costly multiple suppliers. With an inventory of more than 20,000 supply products, all of your needs to operate your business, from the back to the front, are taken care of at the lowest cost. With our expansive truck fleet, we can deliver the products you need at your location in the shortest time possible; or take advantage of Joshen's backhaul program to further drive down your supply costs! Along with our timely delivery, our procurement systems ensure you won't be out of supplies and be faced with operational issues or missed opportunities. Our S.M.A.R.T. System effectively manages your supply products, and flexible reporting technology delivers information to your desktop in a flash!
So whether your a supermarket, c-store, food establishment, food processor, manufacturing facility, retail store, public or private institution, municipality, distributor, or contractor, Joshen has the supply products that you need, at the lowest cost, to effectively merchandise and efficiently operate and manage your business. If we don't have it, we'll get it!